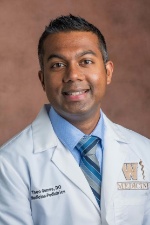 Theotonius J Gomes, DO
Program Director
Assistant Professor, Department of Medicine
Assistant Professor, Department of Pediatric and Adolescent Medicine
---
Contact Information
Patient Care Related:
Internal Medicine, 269.337.6300
Medicine-Pediatrics, 269.337.6345
Biosketch
Theotonius J. Gomes, DO, is Program Director for the Medicine-Pediatrics Residency Program and an assistant professor in the Departments of Pediatric and Adolescent Medicine and Medicine at Western Michigan University Homer Stryker M.D. School of Medicine. He is a trained Internal Medicine-Pediatrics physician.
Dr. Gomes completed his undergraduate studies at the University of Maryland in 2005 earning his BS in Physiology and Neurobiology. He performed research in neuroscience at the Walter Reed Army Institute of Research. He went on to complete a post-baccalaureate fellowship within the National Heart, Lung and Blood Institute at the National Institutes of Health in Bethesda, MD. He also trained as an EMT-B, Firefighter 2 and NREMT-I/Cardiac Rescue Technician before starting medical school. In addition, he was a Clinical Research Associate at the Greater Baltimore Medical Center.
Dr. Gomes earned his DO degree from the Chicago College of Osteopathic Medicine in 2013 and was part of the Sigma Sigma Phi National Osteopathic Honor Society. He completed his residency training at Western Michigan University's combined Internal Medicine-Pediatrics program and served as co-chief resident in June 2018.