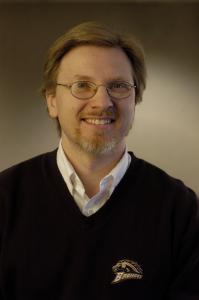 Robert J Baker, MD, PhD
Fellowship Program Director, Department of Family and Community Medicine
Professor, Department of Orthopaedic Surgery
Professor, Department of Family and Community Medicine
---
Contact Information
Patient Care Related:
Pediatric Orthopaedic Surgery, 269.337.6200
Biosketch
Robert Baker, MD, PhD, is a Professor in the Department of Family and Community Medicine and Orthopaedic Surgery. He is Board Certified in Family Medicine and Sports Medicine. He is employed with Western Michigan University Homer Strkyer M.D. School of Medicine as a Sports Medicine Physician. He is a graduate of Black Hawk College with an AS in Chemistry in 1983. He then received his BS from the University of Illinois in Chemistry and Athletic Training in 1985. He also received an MS in Sports Medicine and Exercise Physiology also from the University of Illinois in 1987. He received his MD in 1994 and Doctorate (PhD) in 1995 in Exercise Physiology from the University of Illinois, Urbana-Champaign. He did his Residency in Family Practice from Michigan State University-Kalamazoo Center for Medical Studies in 1998. He completed a Fellowship in Sports Medicine from Michigan State University in 1999 and a Fellowship in Primary Care Faculty Development also from Michigan State University in 2003. He has been a Certified Athletic Trainer since 1986. Currently, Dr. Baker is the Program Director of the Primary Care Sports Medicine Fellowship at Western Michigan University Homer Stryker M.D. School of Medicine in Kalamazoo, Michigan. In addition, he is the team physician for Western Michigan University as well as Professor of Clinical Medicine at Michigan State University. Dr. Baker has presented locally, regionally and national on various topics in Sports Medicine. He has published numerous articles and book chapters on these topics as well. He has practiced as a Primary Care Sports Medicine Physician since 1999. He sees patients and athletes of all ages. His particular areas of interest include: exercise-induced asthma, athletes with diabetes and other chronic diseases, back pain in adolescent and adult athletes, and non-surgical orthopedic injuries in athletes.