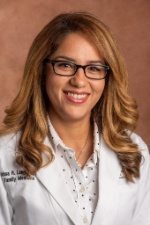 Mahsa Hassanzadeh Langroo, MD
Instructor, Department of Family and Community Medicine
---
Contact Information
Patient Care Related:
Family Medicine - Grace Health, 269.965.8866
Biosketch
Mahsa Hassanzadeh Langroo, MD, is a resident physician with the Family Medicine Residency Program-Battle Creek at Western Michigan University Homer Stryker M.D. School of Medicine. She is a graduate of Azad University of Tehran, Iran. She earned her medical degree from Windsor University School of Medicine, Saint Kitts and Nevis.
Education and Training

MD 2017, Windsor University School of Medicine
BS 2008, Environmental Engineering, Azad University of Tehran

Presentations

Is It Really Sciatica?: What Primary Care Providers Need to Know About SI Joint Pain. Shakourian M, LaPen P, Cowan Z, Manawar S, Wallace R, Hassanzadeh Langroo M, 38th Annual Kalamazoo Community Medical and Health Sciences Virtual Research Day, Kalamazoo, Michigan, 04/2021