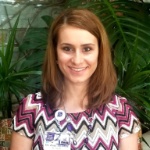 Zena Alyashae, MD
Clinical Assistant Professor, Department of Family and Community Medicine
---
Biosketch
Zena Alyashae, MD, is a board-certified family medicine physician with Three Rivers Health in Three Rivers, Michigan. She is a graduate of the University of Windsor, in Windsor, Ontario, Canada. She earned her medical degree from Windsor University School of Medicine, Cayon, St. Kitts and Nevis. She completed her residency training in Family Medicine at University of Illinois at Rockford College of Medicine in Rockford, Illinois.
In residency, Dr. Alyashae served as chief resident, establishing a resident wellness program and working to improve the learning environment for medical students and residents by establishing guidelines for preceptors and learners. She was a contributor for the Blueprints Family Medicine, 4th Edition.
Dr. Alyashae is currently practicing full scope family medicine at the Three Rivers Family Health Clinic/PAWS Clinic in Three Rivers, Michigan. Her clinical and teaching interests include preventative care, mental health, women's health, newborn, child, teen, and elderly health. She takes care of patients who walk-in with urgent conditions and patients with chronic conditions. She also does procedures at her office, such as knee injections and Nexplanon insertion and removal, and the like.