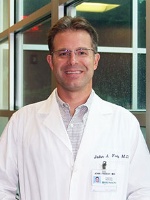 John A Freeby, MD
Clinical Assistant Professor, Department of Radiology
---
Biosketch
John Freeby, MD, is a board-certified diagnostic radiologist with Advanced Radiology Services. He is a graduate of University of Wisconsin in Madison, Wisconsin. He earned his medical degree from University of Chicago Pritzker School of Medicine in Chicago, Illinois. He completed a diagnostic radiology residency with Washington University in St. Louis Mallinckrodt Institute of Radiology in St. Louis, Missouri. In addition, he completed a fellowship in cross sectional imaging with Johns Hopkins University in Baltimore, Maryland.
Board Certification

American Board of Radiology (Diagnostic Radiology)

Education and Training

Fellowship 1996, Cross Sectional Imaging, Johns Hopkins University
Residency 1995, Diagnostic Radiology, Mallinckrodt Institute of Radiology, Washington University in St Louis
MD 1991, Pritzker School of Medicine, University of Chicago
BS 1987, Biochemistry and Molecular Biology, University of Wisconsin-Madison

Publications

Chien A., Freeby J., Win T., Gadwood K. Aggressive angiomyxoma of the female pelvis: Sonographic, CT, and MR findings American Journal of Roentgenology. 1998;171(2):530-531.

Freeby J., Fishman E., Marshall F., Henneberry J. Mesoblastic nephroma in an adult: Spiral CT appearance Abdominal Imaging. 1997;22(4):439-440.

Freeby J.A., Reinus W.R., Wilson A.J. Quantitative analysis of the plain radiographic appearance of aneurysmal bone cysts Investigative Radiology. 1995;30(7):433-439.