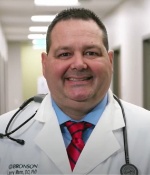 Larry W Mann, DO, PhD
Clinical Assistant Professor, Department of Family and Community Medicine
---
Biosketch
Larry Mann, DO, PhD, is a family physician. He is a graduate of Hope College in Holland, Michigan. He earned a doctorate in organic chemistry from Wayne State University in Detroit, Michigan, and worked for several years in industry.
Dr. Mann later attended Michigan State University College of Osteopathic Medicine in East Lansing, Michigan, and earned his medical degree. He completed a family medicine residency with Western Michigan University Homer Stryker M.D. School of Medicine.
Board Certification

American Board of Family Medicine (Family Medicine)

Education and Training

Residency 2018, Family Medicine, Western Michigan University Homer Stryker M.D. School of Medicine
DO 2015, College of Osteopathic Medicine, Michigan State University
PhD 2002, Organic Chemistry, Wayne State University
BS 1997, Chemistry, Hope College
BA 1992, Psychology, Hope College

Publications

Allen J.G., Bourbeau M.P., Wohlhieter G.E., Bartberger M.D., Michelsen K., Hungate R., Gadwood R.C., Gaston R.D., Evans B., Mann L.W., Matison M., Schneider S., Huang X., Yu D., Andrews P.S., Reichelt A., Long A.M., Yakowec P., Yang E.Y., Lee T.A., Oliner J.D. Discovery and optimization of chromenotriazolopyrimidines as potent inhibitors of the mouse double minute 2-tumor protein 53 protein-protein interaction Journal of Medicinal Chemistry. 2009;52(22):7044-7053.

Rigby J., Mann L., Myers B. Room temperature chromium(0)-catalyzed higher-order cycloaddition reactions Tetrahedron Letters. 2001;42(50):8773-8775.