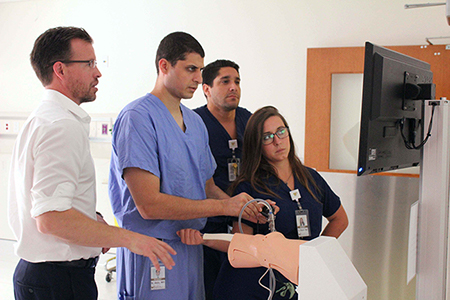 Our Orthopaedic Surgery residents benefit from a wealth of adult and pediatric orthopaedic experiences under the guidance and teaching of our faculty.
Together, we provide ample opportunities for primary responsibility of patient management and our active clinic service gives our residents broad exposure to orthopaedic care for both children and adults – hand, foot, fractures, orthopaedic trauma, joint reconstruction, spine, sports medicine, multiple congenital anomalies, myelodysplasia and scoliosis.
PGY-1 Schedule
Our first-year residents receive training that provides a solid foundation in a broad range of basic medical disciplines for the four years of approved training that will follow. 
| Blocks | Rotation |
| --- | --- |
| 6 | Orthopaedic Surgery |
| 1 | Acute Care Surgery |
| 1 | Anesthesiology |
| 1 | General Surgery |
| 1 | Research/Basic Science |
| 1 | Pediatric Surgery |
| 1 | Neurological Surgery |
| 1 | Trauma Surgery |

PGY-2 Schedule
| Blocks | Rotation |
| --- | --- |
| 2 | Basic Science/Research |
| 2-3 | Foot and Ankle |
| 2 | General Orthopaedics |
| 2-3 | Night Float |
| 2 | Pediatric Othopaedics |
| 2-3 | Spine and Orthopaedic Trauma |

PGY-3 Schedule
| Blocks | Rotation |
| --- | --- |
| 2-3 | Foot and Ankle |
| 2 | Hand and Upper Extremity |
| 2-3 | Major Joint Reconstruction |
| 2 | Oncology (Away Rotation) |
| 2-3 | Pediatric Orthopaedics |
| 2 | Shoulder and Arthroscopy |

PGY-4 Schedule
| Blocks | Rotation |
| --- | --- |
| 2 | Adult and Pediatric Spine |
| 1 | Elective/Away Rotation |
| 2 | Hand and Upper Extremity |
| 2 | Orthopaedic Trauma |
| 2 | Pediatric Orthopaedics |
| 2 | Shoulder |
| 2 | Sports |

PGY-5 Schedule
| Blocks | Rotation |
| --- | --- |
| 4-5 | Advanced Orthopaedics/Ascension Borgess Administrative Chief |
| 2 | Major Joint Reconstruction/Bronson Administrative Chief |
| 4-5 | Orthopaedic Trauma/Bronson Trauma Chief |
| 2-3 | Sports/Bronson Administrative Chief |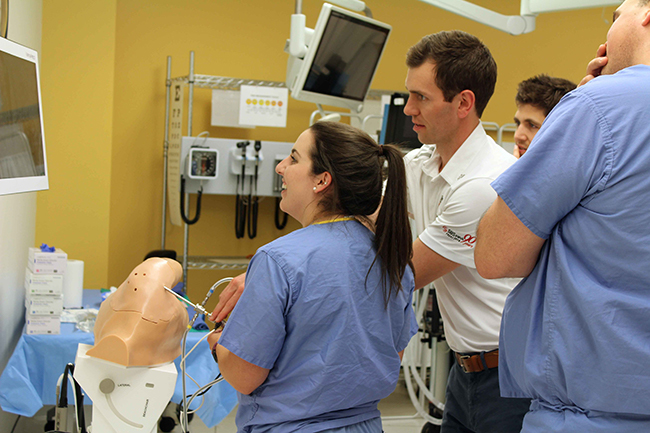 Our residents receive training at Ascension Borgess Hospital and Bronson Methodist Hospital and gain exposure to a variety of orthopaedics during each rotation in complementary experiences that reflect each hospital's strengths.
Ascension Borgess Hospital has a Level II Trauma Center and offers strong exposure in joint reconstruction, spine, sports medicine, and foot surgery. Bronson Methodist Hospital has a Level I Trauma Center, an orthopaedic hand surgery group, and a large pediatric unit, including neonatal intensive care on campus, so rotations there are especially strong in trauma, hand surgery, and pediatric orthopaedics. Given the variety and volume of clinical material, approximately 30 percent of operative cases are performed without resident attendance, despite a large individual resident experience.
Rotations in the following sub-specialties at both hospitals:
Trauma
Sports Medicine
Spine
Hand Surgery

Foot and Ankle
Shoulder
Joint Reconstruction
Rotation in the following sub-specialty at Bronson:
Pediatric Orthopaedics

Large Pediatric Unit (PICU)
Neonatal Intensive Care (NICU)
We are also pleased to provide in partnership with Medical College of Wisconsin an orthopaedic oncology rotation at Children's Wisconsin and Froedtert Hospital in Milwaukee in the second half of the PGY-3 year.
Our curriculum is designed for experience in orthopaedic surgery sub-specialties as both a junior and a senior resident. Rotations are scheduled to provide you experience in pre-operative, operative, and post-operative management of patients in the hospitals and clinics, and continuity of patient care throughout each 8-week rotation.
Dedicated Research Rotations

Our curriculum includes a dedicated 4-week rotation in basic science and research in your PGY-1 year, and a dedicated 8-week research rotation in the second half of your PGY-2 year. Our research curriculum includes principles of research design, methodology, biostatistics and analysis, and the ethical principles of clinical and translational research. Our faculty provide research mentorship with a wide variety of interests in the discipline, and also collaborate with faculty in other departments and programs. You will have the opportunity to work directly with our department faculty PhDs in biomedical engineering with the Biomedical and Tissue Engineering Laboratory at WMed, and biomechanical engineering with the Western Michigan University College of Engineering and Applied Science.

Research Presentations

Most resident projects are presented at the annual Kalamazoo Community Medical and Health Sciences Research Day, which is the annual research day hosted by Western Michigan University Homer Stryker M.D. School of Medicine (WMed). Many resident projects are also presented at other prestigious regional and national venues, and are published in peer-reviewed journals. Our residents have presented at the Michigan Orthopaedic Society Annual Scientific Meeting, the Mid-America Orthopaedic Association Annual Meeting, the American Orthopaedic Foot and Ankle Society (AOFAS) Annual Meeting, the Orthopaedic Trauma Association (OTA) Annual Meeting, and the American Academy of Orthopaedic Surgeons (AAOS) Annual Meeting. WMed offers travel awards to apply toward expenses for presenting original research at regional and national conferences.
Didactics Annual Schedule
Weekly

Faculty Clinical Lecture

Monday
Two-year recurring curriculum (select here for list of topics)

OITE Review 

Wednesday April – November
Resident led
Additional sessions hosted by faculty in their sub-specialty
 

Anatomy lab

Wednesday January – March (with exception of Bioskills Wednesday
Organized by our PGY-3 residents
 

Clinical conference

Thursday
Topics include X-ray Indications, Business of Medicine, Leadership, Diversity

Monthly

Journal Club 

4th Monday 
Organized by our PGY-4 residents 
Typically review 6 articles per month
Article topics for discussion include clinical considerations, business of medicine, leadership, diversity and wellness topics
 

Morbidity & Mortality/M&M

1st Thursday
Combined Ascension Borgess and Bronson review of cases
 

Grand Rounds

2nd Thursday
Each Chief Resident gives one Grand Rounds
Regional and national experts present Grand Rounds six times during the year
 

Bioskills Lab

Wednesdays, variable schedule
 

MRI Conference

1st Thursday
Interactive conference led by Department Chair Keith Kenter MD

Annually

E. Dennis Lyne Visiting Professor

Half day conference April/May
National expert in orthopaedic surgery
PGY-4 residents present their research thesis
 

Curtis Hanson Alumni Day

Half day conference September
In conjunction with Western Michigan University Broncos home football game
 

AO Techniques Workshop for junior residents, sponsored by DePuy Synthes Trauma/Johnson & Johnson

Full day of lectures and hands-on technique training held on Western Michigan University campus
Extracurricular Conferences
Our curriculum supports attendance at extracurricular regional and national conferences for each PGY year with financial support provided. 
In addition, WMed supports optional attendance at an extracurricular conference of your choice during your PGY-2 through PGY-5 years
Attendance funded by annual professional development allowance
Dedicated professional development time off separate from vacation time