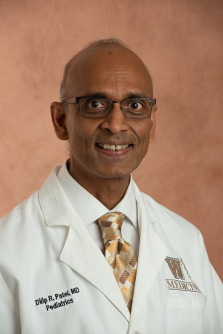 Welcome from the Department Chair
In the Department of Pediatric and Adolescent Medicine, we improve the health of our patients – infants, children, adolescents, and young adults – through high-quality comprehensive pediatric healthcare, education, research, and advocacy. Our goal is for our patients to attain and maintain optimal health and well-being.
We prepare future leaders in pediatric medicine by offering broad-based education and training in pediatrics within ambulatory, inpatient, and community settings. Department faculty are committed to teaching in our programs, helping to shape our medical students and residents into exceptional doctors of tomorrow.
Together, we provide expertise in general pediatrics as well as numerous subspecialties including:
Adolescent Medicine and Gynecology
Child Abuse Pediatrics
Child and Adolescent Psychiatry
Cystic Fibrosis
Dermatology
Developmental-Behavioral Pediatrics
Eating Disorders
Neonatology
Neurodevelopmental Pediatrics
Newborn Nursery Hospital Care
Pediatric Allergy and Immunology
Pediatric Cardiology
Pediatric Chronic Illness
Pediatric Critical Care
Pediatric Dentistry

Pediatric Emergency Medicine
Pediatric Endocrinology
Pediatric Gastroenterology
Pediatric Hematology-Oncology
Pediatric Hospitalist Care
Pediatric Multi-Specialty Care
Pediatric Neurology
Pediatric Orthopaedics
Pediatric Otolaryngology
Pediatric Psychology
Pediatric Pulmonology
Pediatric Radiology
Pediatric Sports Medicine
Pediatric Surgery

Our team of faculty, residents, and pediatric nurses care for 7,000 patients and provide 14,000 annual patient visits at the general pediatric and subspecialty clinics on the medical school's Oakland Drive Campus. We are proud to be nationally recognized as a patient-centered medical home. Our model of care emphasizes care coordination and communication to best meet the needs of our patients and their families. In addition, our physicians and residents see patients at Bronson Children's Hospital, (link) southwest and south central Michigan's only children's hospital located in Kalamazoo.