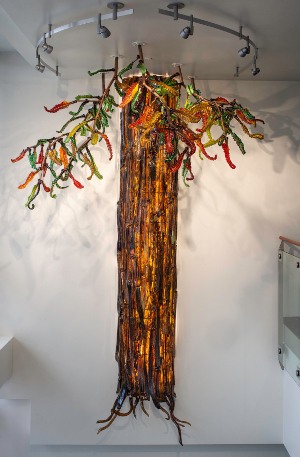 The Body Donor Memorial Tree commemorates all who have made donations to the Body Donation Program at WMed since the program's inception in 2014.
Each unique piece of glass is engraved with the name of a donor and serves as a constant reminder of the individual's selfless gift to advance medical education.
The handblown glass creation by Glass Art Kalamazoo artists Joshua Davids and Ekin Aytac weighs almost 1,000 pounds. The original installation includes more than 200 individual pieces of glass that compose the bark and leaves of the tree. Annually, leaves will be added to the tree to honor new donors.
A dedication ceremony for the Body Donor Memorial Tree was held at the medical school's W.E. Upjohn M.D. Campus on Friday, March 1, 2019. The event was attended by family and friends of donors who are memorialized on the tree as well as numerous people from the Kalamazoo community.
The Body Donor Memorial Tree serves as a lasting tribute to our donors that embodies their beauty, the beauty of their life stories, the beauty of the love they shared with their family and friends, and the beauty of their selfless gift.