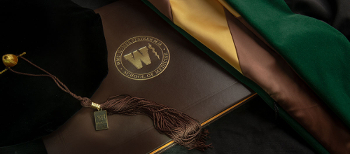 Class of 2024 Commencement
Students from the MD Class of 2024 and Master of Science in Medical Engineering and Biomedical Sciences degree programs will be honored during their commencement ceremony on Thursday, May 9, 2024 at Miller Auditorium.
Students will be asked to arrive by 1 p.m. for the ceremony. The doors will open to guests at 3:30 p.m. There is ample seating at Miller Auditorium; tickets are not required. Miller Auditorium has accessible seating options; feel free to contact Student Affairs with questions regarding seating.
Are you unable to join us in person? Come back to this webpage on the day of this event. The event will be livestreamed.
Past Commencements