New Miller Family Endowed Scholarship Fund at WMed will provide medical school scholarships for Kalamazoo Public Schools graduates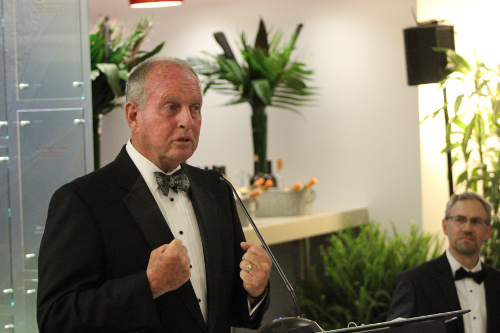 In Ken Miller's eyes, the Early Introduction to Health Careers (EIH) pipeline programs at WMed are a beacon of opportunity, innovation, and inspiration for students from southwestern Michigan.
So, as he stood before a crowd of more than 400 guests Saturday at the 4th Annual Imagine Gala at WMed's W.E. Upjohn M.D. Campus, Miller was filled with pride following the announcement that $550,000 has been raised for the new Miller Family Scholarship Fund. The endowment will provide medical school scholarships for students from the region, with preference given to Kalamazoo Public Schools graduates who successfully completed EIH.
The pipeline programs at WMed are designed to champion the biomedical science and healthcare career aspirations of youth from groups traditionally underrepresented in those fields. The programs also provide a platform for WMed students to design and teach interactive learning experiences to help elementary and high school students develop leadership, team-building, and problem-solving skills.
EIH was first launched in 2014 by Dr. Cheryl Dickson, the medical school's associate dean for Health Equity and Community Affairs. Since then, the pipeline programs have blossomed and now serve more than 180 students, including 49 KPS sophomores in EIH 2 and 80 fourth and fifth graders from KPS in EIH 1. Additionally, the EIH model is being used to serve more than 50 eighth graders from three school districts in Calhoun County as part of efforts there to create programming and support for a healthcare career pipeline.
"I cannot tell you how proud my wife, Julie, and I are to be able to be a part of this, to know that at some moment in time there will be a Miller Family Scholar who will achieve their medical degree and will be participating in this community for the betterment of all of us," Miller said. "That is something that excites me to no end."
The new scholarship fund was made possible through the generosity of Ken and Julie Miller and Jerry and Sue Miller, as well as the philanthropic efforts of other community donors. The scholarship fund is named in honor of the Millers' parents, Harold and Virginia Miller. 
"They were beautiful, simple people who believed to their very core in education because they didn't have the opportunity for it but they believed in it for us," Miller said. "They didn't have opportunity. That is what the EIH program does. It gives opportunity to those who otherwise wouldn't have it. 
"There will be a point in time, actually we are at that point in time, when an individual out there today will progress, step by step, through early elementary, through high school, will go on because of The Kalamazoo Promise to college, will go from college to WMed because of scholarships and never pay a dime of tuition," Miller added.
The Millers have been stalwart supporters of the medical school from the time Western Michigan University President Emeritus John M. Dunn unveiled his vision of what would become WMed more than a decade ago. In many ways, Ken Miller, who is a member emeritus of the WMU Board of Trustees, a WMU alumnus, and CEO of the Millennium Restaurant Group, played a direct role in bringing the medical school to life as he chaired the search committee in 2007 that chose Dr. Dunn as WMU's eighth president.
Ken Miller told the crowd at the Imagine Gala that their continued support of the event and the medical school would ensure that WMed and the EIH pipeline programs remain beacons of inspiration and innovation for the community and young students who call the community home.
The Imagine Gala helps with needed funding for EIH pipeline programs at WMed. Guests receive the red-carpet treatment and this year they took part in a "Havana Nights" inspired evening that featured authentic Cuban cuisine, drinks, and desserts, as well as Orquesta Ritmo, a 12-piece Latin ensemble from Lansing that provided music for nighttime dancing and unwinding under a large sailcloth tent in the W.E. Upjohn M.D. Campus courtyard.
As guests at this year's event took in the news of the new scholarship fund, William D. Johnston, the medical school's founding donor and a close friend of Ken Miller, told the crowd that the $550,000 raised for the new Miller Family Scholarship Fund "is a really great start" but more work still needs to be done.
"I don't want you to think for a moment that the endowment is done," Johnston said. "We are changing the condition that we're in. Very few other medical schools in the country are doing this. I'm extremely proud of (Dr. Hal B. Jenson, WMed's founding dean), and the team that have developed this pipeline program."