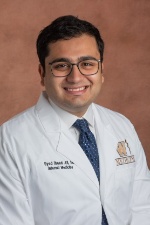 Syed Ibaad Ali, MD
Instructor, Department of Medicine
---
Contact Information
Patient Care Related:
Internal Medicine, 269.337.6300
Biosketch
Syed Ibaad Ali, MD, is a resident physician with the Internal Medicine Residency Program at Western Michigan University Homer Stryker M.D. School of Medicine, Kalamazoo, Michigan. He graduated from Dow Medical College in Karachi, Pakistan. After graduation, he worked as a medical officer at Aman Health Care Services, also in Karachi. His research interests include public health, endocrinology, and pulmonology.
Education and Training

MBBS 2019, Dow Medical College

Research

Pulmonology
Public Health
Endocrinology

Publications

Akbar F., Siddiqui Z., Waheed M.T., Ehsan L., Ali S.I., Wiquar H., Valimohammed A.T., Khan S., Vohra L., Zeeshan S., Rashid Y., Moosajee M., Jabbar A.A., Zahir M.N., Zahid N., Soomro R., Ullah N.N., Ahmad I., Haider G., Ansari U., Rizvi A., Mehboobali A., Sattar A., Kirmani S. Spectrum of germline pathogenic variants using a targeted next generation sequencing panel and genotype-phenotype correlations in patients with suspected hereditary breast cancer at an academic medical centre in Pakistan Hereditary Cancer in Clinical Practice. 2022;20

Acharya S., Ali S.I., Anwar S., Glaser A. DO NOT FALL to the VAPE TRAP! Respiratory Medicine Case Reports. 2020;31

Ahmed S., Khan A., Ali S.I., Saad M., Jawaid H., Islam M., Saiyed H., Fatima S., Basham M.A., Hussain S.A., Akhtar M., Kausar F., Hussain A., Fatima K. Differences in symptoms and presentation delay times in myocardial infarction patients with and without diabetes: A cross-sectional study in Pakistan Indian Heart Journal. 2018;70(2):241-245.

Ali S., Akhter R., Khan A. L-glutamine approved for use in patients with sickle cell disease Journal of the Pakistan Medical Association. 2018;68(3):507.

Ali S., Nasir H., Khan A. Reinstatement of the Mexico City policy and its impact on global health Journal of Infection and Public Health. 2018;11(3):443.

Nasir H., Ali S., Haque N., Grebe S., Kirmani S. Compound heterozygosity for a whole gene deletion and p.R124C mutation in CYP21A2 causing nonclassic congenital adrenal hyperplasia Annals of Pediatric Endocrinology and Metabolism. 2018;23(3):158-161.

Ali S.I., Khan A., Fatima H., Hussain S.A. A call to reinstate Pakistan's death penalty moratorium The Lancet. 2017;390(10113):2623.