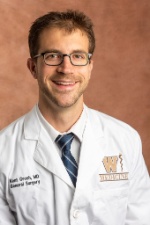 Kent Grosh, MD
Instructor, Department of Surgery
---
Contact Information
Patient Care Related:
Biosketch
Perelman School of Medicine at the University of Pennsylvania
Millersville University (Post-Baccalaureate)
Villanova University (Mechanical Engineering)
What are your interests and hobbies outside of work?
Running, gardening, fishing with Cole and Kyra, eating ice cream with Sarah and Caitlyn, and exploring Michigan!
What is your clinical area of interest?
General surgery, health care systems, public health, and healthcare economics.
What do you like about training at WMed Surgery?
Great operative experience and wonderful family and residents to train with!
Education and Training

MD 2019, Perelman School of Medicine, University of Pennsylvania
BS 2010, Mechanical Engineering, Villanova University

Publications

Grosh K.M., Folkert K.N., Chou J., Shebrain S.A., Munene G.M. A Cohort Study of an Enhanced Recovery Pathway for Pancreatic Surgery at a Community Hospital American Surgeon. 2022

Grosh K., Smith K., Shebrain S., Collins J. Local anesthesia as an alternative option in repair of recurrent groin hernias: An outcome study from the American College of Surgeons NSQIP® database Annals of Medicine and Surgery. 2021;71

Ashrafiuon H., Grosh K., Burke K., Bommer K. An intelligent exoskeleton for lower limb rehabilitation Proceedings of the ASME Design Engineering Technical Conference. 2010;2(PARTS A AND B):3-9.