---
---
---
---
---
Contact Information
Patient Care Related:
Cystic Fibrosis, 269.337.6430
Pediatric Pulmonology, 269.337.6430
Pediatric Sleep Medicine, 269.337.6430
Biosketch

Eric Gatmaitan is the owner of Applied IE, an industrial engineering firm continually developing and implementing new or enhanced industrial engineering methods. Applied IE helps organizations implement systems and methods to deploy performance-driven solutions. Applied IE has expertise in industrial engineering, operations management, quality systems, and technology applications.
---
Contact Information
Patient Care Related:
Pediatric Orthopaedic Surgery, 269.337.6200
Biosketch
---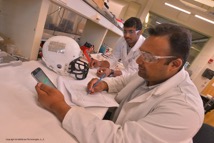 SafeSense Technologies provides innovative sensor technology using flexible electronics for the sports performance, physical therapy, and medical diagnostics markets. Unlike other helmet sensor solutions, SafeSense Technologies' sensors seamlessly integrate into the helmet and can provide a full profile mapping of the intensity and location of the impact (much like a weather map).
Warner Norcross + Judd LLP is partnering with the WMed Innovation Center for a lunch-and-learn series designed to help technology startups be more successful in business. 
The lunch-and-learn series will feature several events throughout 2019 that focus on topics critical for business startups. Warner thought leaders in capital formation, venture capital, intellectual property, labor and employment, executive compensation, tax and other practice areas will lead each session. 
Subscribe to