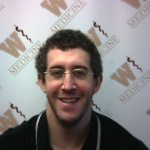 Jerome E Pomeranz, MD
Assistant Professor, Department of Family and Community Medicine
---
Contact Information
Patient Care Related:
Family Medicine - Crosstown Parkway, 269.585.0200
Family Medicine - Oakland, 269.337.6500
Family Medicine Obstetrics - FHC, 269.349.2641
Biosketch
Dr. Jerome Pomeranz is a board-certified family physician with the Department of Family and Community Medicine at Western Michigan University Homer Stryker M.D. School of Medicine. He earned a mathematical degree from Binghamton University in New York. He then earned his medical degree from Frank H. Netter School of Medicine at Quinnipiac University in Connecticut. That was followed by completing his residency in Family Medicine at Memorial Hospital in South Bend, Indiana. Dr. Pomeranz's interests include providing full-spectrum healing to his patients including delivering their babies, doing a variety of procedures, researching mathematical medical decision-making, serving as a mentor for medical learners at different stages of their journeys, and supporting effective altruism causes.
Education and Training

Residency 2022, Family Medicine, Memorial Hospital of South Bend
MD 2019, Frank H Netter School of Medicine, Quinnipiac University
BA 2013, Mathematical Sciences, Binghamton University, State University of New York

Research

Nutrition
Mentoring
Medical decision-making

Presentations

Validity of Consumer-Marketed Handheld Near-Infrared Spectrometer. Pomeranz J, 2018 National American Association of Family Physicians Conference of Family Medicine Residents and Medical Students, Kansas City, Missouri, 08/2018