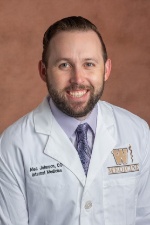 Alec Johnson, DO
Instructor, Department of Medicine
---
Contact Information
Patient Care Related:
Internal Medicine, 269.337.6300
Biosketch
Alec Johnson, DO, is a resident physician in the Internal Medicine Residency Program at Western Michigan University Homer Stryker M.D. School of Medicine. He received his Bachelor's Degree in Biology in 2015 from Point Loma Nazarene University in San Diego, California. He received his Doctorate of Osteopathy in 2021 from Midwestern University-Arizona College of Osteopathic Medicine in Glendale, Arizona. His clinical interest is in medical education.
Education and Training

DO 2021, Arizona College of Osteopathic Medicine, Midwestern University
BS 2015, Biology, Point Loma Nazarene University

Research

Publications

Dorrell M.I., Heidi R.K.W., Botts R.T., Bravo S.A., Tremblay J.R., Giles S., Wada J.F., MaryAnn Alexander , Garcia E., Villegas G., Booth C.B., Purington K.J., Everett H.M., Siles E.N., Wheelock M., Silva J.A., Fortin B.M., Lowey C.A., Hale A.L., Kurz T.L., Rusing J.C., Goral D.M., Thompson P., Johnson A.M., Elson D.J., Tadros R., Gillette C.E., Coopwood C., Rausch A.L., Snowbarger J.M. A novel method of screening combinations of angiostatics identifies bevacizumab and temsirolimus as synergistic inhibitors of glioma-induced angiogenesis PLoS ONE. 2021;16(6 June)