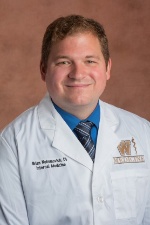 Brian Nohomovich, DO, PhD
Instructor, Department of Medicine
---
Contact Information
Patient Care Related:
Internal Medicine, 269.337.6300
Biosketch
Brian Nohomovich, DO, PhD, is a resident physician with the Internal Medicine Residency Program at Western Michigan University Homer Stryker M.D. School of Medicine. He is a graduate of Seton Hall University, South Orange, New Jersey. He also earned his master's degree in microbiology from Seton Hall. He completed his graduate work at Michigan State University College of Osteopathic Medicine as part of a DO, PhD joint degree program. During this program he completed research focused on the human microbiome of acute gastroenteritis and received awards for research excellence and advancements in ecology. For his efforts in medical school he was inducted into Sigma Sigma Phi, a national medical honors society. He served as Director of Research for the Student Osteopathic Medical Association and Chair of Fundraising for the American Physician Scientist Association. His clinical and research interests are in gastroenterology, microbiology, and data science.
Education and Training

DO 2021, College of Osteopathic Medicine, Michigan State University
PhD 2019, Michigan State University
Certificate 2018, Computational Modeling, Michigan State University
MS 2013, Microbiology, Seton Hall University
BS 2010, Biology, Seton Hall University

Research

Microbiology
Gastroenterology
Data science

Publications

Nohomovich B., Gomes T., Pinheiro Alves A., Ortiz A.E. Extreme alkalaemia with mixed alkalosis due to suspected acute-on-chronic respiratory alkalosis BMJ case reports. 2023;16

Garces C.C., Salam M.F., Nohomovich B., Varghese M.T. Idiopathic linear IgA bullous dermatosis treated with prednisone BMJ Case Reports. 2021;14(5)

Hansen Z.A., Cha W., Nohomovich B., Newton D.W., Lephart P., Salimnia H., Khalife W., Shade A., Rudrik J.T., Manning S.D. Comparing gut resistome composition among patients with acute Campylobacter infections and healthy family members Scientific Reports. 2021;11

Vasco K., Nohomovich B., Singh P., Venegas-Vargas C., Mosci R.E., Rust S., Bartlett P., Norby B., Grooms D., Zhang L., Manning S.D. Characterizing the cattle gut microbiome in farms with a high and low prevalence of shiga toxin-producing escherichia coli Microorganisms. 2021;9