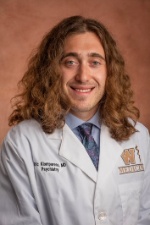 Eric Klomparens, MD
Instructor, Department of Psychiatry
---
Contact Information
Patient Care Related:
Biosketch
Eric Klomparens, MD, is a resident physician in the Psychiatry Residency Program at Western Michigan University Homer Stryker M.D. School of Medicine, Kalamazoo, Michigan. He is a graduate of the University of Michigan, Ann Arbor, Michigan. He earned a master's degree in pharmacology and toxicology from Michigan State University College of Osteopathic Medicine, East Lansing, Michigan. He earned his medical degree from Wayne State University School of Medicine in 2020. His research and professional interests include improving patient-centered care and addiction psychiatry.
Education and Training

MD 2020, School of Medicine, Wayne State University
MS 2017, Pharmacology and Toxicology, College of Osteopathic Medicine, Michigan State University
BS 2013, Neuroscience and Psychology, College of Liberal Arts and Sciences, University of Michigan-Ann Arbor

Research

addiction psychiatry
Patient-Centered Care

Publications

Li H., Zhu N., Klomparens E.A., Xu S., Wang M., Wang Q., Wang J., Song L. Application of functional near-infrared spectroscopy to explore the neural mechanism of transcranial direct current stimulation for post-stroke depression Neurological Research. 2019;41(8):714-721.

Zhu Y., Klomparens E., Guo S., Geng X. Neuroinflammation caused by mental stress: the effect of chronic restraint stress and acute repeated social defeat stress in mice Neurological Research. 2019;41(8):762-769.