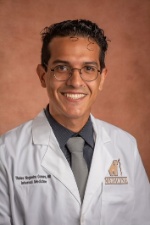 Thales Nogueira Gomes, MD, MSc
Chief Resident, Department of Medicine
Instructor, Department of Medicine
---
Contact Information
Patient Care Related:
Internal Medicine, 269.337.6300
Biosketch
Thales Gomes, MD, MSc, is a resident physician in the Internal Medicine Residency Program at Western Michigan University Homer Stryker M.D. School of Medicine. He earned his medical degree from the Federal University of Ceará, in Brazil. During his medical school years, he was awarded a one-year scholarship to pursue a masters degree at the London School of Hygiene and Tropical Medicine in the United Kingdom. His clinical and research interests include Cardiology and Primary care.
Education and Training

MD 2018, Faculdade de Medicina Fortaleza, Universidade Federal do Ceará
MSc 2015, Reproductive and Sexual Health Research, London School of Hygiene and Tropical Medicine, University of London

Publications

Correia L.L., Lima Rocha H.A., Leite Á.J.M., Campos J.S., e Silva A.C., Machado M.M.T., Rocha S.G.M.O., Gomes T.N., da Cunha A.J.L.A. Spontaneous and induced abortion trends and determinants in the northeast semiarid region of Brazil: A transversal series Revista Brasileira de Saude Materno Infantil. 2018;18(1):123-132.

Presentations

Streptococcus Pneumoniae Infection Presenting As Cauda Equina Syndrome Due to Epidural Abscess - A Case Report. Camelo Pereira M, Nogueira Gomes T, Avner B, 38th Annual Kalamazoo Community Medical and Health Sciences Virtual Research Day, Kalamazoo, Michigan, 04/2021
T-Cell Large Granular Lymphocyte Leukemia During Treatment With Methotrexate for Rheumatoid Arthritis - A Case Study. Nogueira Gomes T, Camelo Pereira M, Solanki S, 38th Annual Kalamazoo Community Medical and Health Sciences Virtual Research Day, Kalamazoo, Michigan, 04/2021