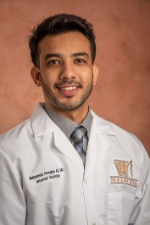 Muhammad Armughan Ali, MBBS
Instructor, Department of Medicine
---
Contact Information
Patient Care Related:
Internal Medicine, 269.337.6300
Biosketch
Muhammad Armughan Ali, MBBS, is a resident physician with the Internal Medicine Residency Program at Western Michigan University Homer Stryker M.D. School of Medicine. Originally from Pakistan, he earned his medical degree from Dow University of Health Sciences Dow Medical College, Karachi. He completed an internship at Dr Ruth KM Pfau Civil Hospital, Karachi.
Education and Training

Internship 2019, Dr. Ruth KM Pfau Civil Hospital
MBBS 2017, Dow Medical College, Dow University of Health Sciences

Publications

Adam A.M., Ali M.A., Shah A.A., Rizvi A.H., Rehan A., Godil A., Abbas A.H., Durrani N.U.A., Shaikh A.T., Mallick M.S.A., Lashari M.N. Efficacy of hematological and coagulation parameters in the diagnosis and prognosis of patients with acute coronary syndrome Journal of Tehran University Heart Center. 2018;13(3):115-125.

Murtaza G., Khalid A., Ali M.A., Adam A.M., Ikhlaq W., Ahmed A. Lenz majewskihyperostotic dwarfism: A Pakistani patient with atypical features Journal of the Pakistan Medical Association. 2018;68(5):793-796.

Adam A.M., Rehan A., Waseem N., Iqbal U., Saleem H., Ali M.A., Shaikh A.T., Godil A. Prevalence of conventional risk factors and evaluation of baseline indices among young and elderly patients with coronary artery disease Journal of Clinical and Diagnostic Research. 2017;11(7):OC34-OC39.

Ali M., Rehman M., Saeed M. Rheumatoid arthritis masquerading as fibromyalgia Journal of the College of Physicians and Surgeons Pakistan. 2017;27:S134-S136.

Ali M.A., Yasir J., Sherwani R.N., Fareed M., Arshad F., Abid F., Arshad R., Ismail S., Khan S.A., Siddiqui U.J., Muhammad M.G., Fatima K. Frequency and predictors of non-adherence to lifestyle modifications and medications after coronary artery bypass grafting: A cross-sectional study Indian Heart Journal. 2017;69(4):469-473.

Rehman M., Ali M., Siddiqui M. Prophylactic platelet transfusion in dengue: A dilemma Journal of the Pakistan Medical Association. 2017;67(12):1961.

Presentations

Etiology of Cardiopulmonary disease during the pandemic. A challenging case. Ali MA, Rehman M, Kumar D, Schauer M, 40th Annual Kalamazoo Community Medical and Health Sciences Research Day, Kalamazoo, Michigan, 04/2022