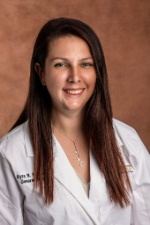 Kyra Nicole Folkert, MD
Instructor, Department of Surgery
---
Contact Information
Patient Care Related:
Biosketch
George Washington University School of Medicine and Health Sciences
Brandeis University (Post-Baccalaureate)
University of Arizona (Family Studies and Human Development)
What are your interests and hobbies outside of work?
Fishing, spending time with my dog and cat, paddle boarding, riding my peloton, eating ice cream at Ritters, and I love a good nap.
What is your clinical area of interest?
Surgical oncology and transplant surgery
What do you like about training at WMed Surgery?
I love the people; our residency program feels like a family. Our program leadership provides us with a lot of support. We also get a lot of operating room exposure early in residency.
Education and Training

MD 2019, George Washington University
Certificate 2015, Premedicine, Brandeis University
BS 2012, Family Studies and Human Development, University of Arizona

Presentations

Robotic Excision of Type IV Choledochal Cyst With Hepaticoduodenostomy. Khalil S, Folkert K, Leinwand M, 38th Annual Kalamazoo Community Medical and Health Sciences Virtual Research Day, Kalamazoo, Michigan, 04/2021