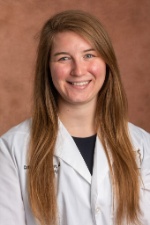 Caitlyn B Cookenmaster, MD
Chief Resident, Department of Surgery
Instructor, Department of Surgery
---
Contact Information
Patient Care Related:
Biosketch
Michigan State University College of Human Medicine
Adrian College (Biochemistry)
What are your interests and hobbies outside of work?
When not at work, I like to spend time outdoors, especially hunting and hiking. I am also an avid baseball fan and enjoy studying 16th century European geopolitics. I also enjoy eating ice cream with my classmates at Ritter's Frozen Custard after work.
What is your clinical area of interest?
After graduating residency, I plan to pursue a General Surgery practice in a rural area. I am also interested in global surgery and hope to continue performing mission work in Rwanda.
What do you like about training at WMed Surgery?
I chose WMed for the close relationships amongst the residents as well as the early and strong operative experience. I could tell from the interview dinner alone that the residents were very supportive of each other and enjoyed spending time together outside of work. Additionally, residents get early operative experience as interns and are guided by faculty who enjoy teaching.
Education and Training

MD 2019, College of Human Medicine, Michigan State University
BS 2015, Biochemistry, Adrian College

Publications

Presentations

The Plan-Do-Study-Act (PDSA): An Iterative Approach to Optimize Residence Performance in ABSITE. Shebrain S, Cookenmaster C, Elian A, Timmons J, Munene G, Sawyer R, 41st Annual Kalamazoo Community Medical & Health Sciences Research Day, Kalamazoo, Michigan, 05/2023