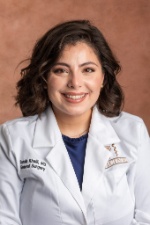 Sarah I Khalil, MD
Instructor, Department of Surgery
---
Contact Information
Patient Care Related:
Biosketch
Western Michigan University Homer Stryker M.D. School of Medicine
Loyola University (M.S., Psychology)
Loyola University (Chemistry)
What are your interests and hobbies outside of work?
Ice cream with Kyra, Kent, and Caitlyn, taking walks on local trails, baking scones, running, spending time with family, and drinking an ice cold Diet Coke.
What is your clinical area of interest?
There are too many good choices to pick one!
What do you like about training at WMed Surgery?
My co-residents are the most valuable part of the program. We are very close-knit and genuinely enjoy spending time with each other. We work very hard, but we all have a good balance of hobbies outside of the hospital. I also love the faculty at WMed. The faculty are dedicated to teaching residents both in the OR and outside of it, and have a genuine interest in our development as surgeons.
Education and Training

MD 2019, Western Michigan University Homer Stryker M.D. School of Medicine
MS 2015, Physiology, Loyola University-Chicago
BS 2014, Chemistry, Loyola University-Chicago

Presentations

Perioperative Chemotherapy for Hepatic Undifferentiated Embryonal Sarcoma in a Young Adult: Case Report and Review of the Literature. Vergara R, Khalil S, Munene G, 40th Annual Kalamazoo Community Medical and Health Sciences Research Day, Kalamazoo, Michigan, 04/2022
Robotic Excision of Type IV Choledochal Cyst With Hepaticoduodenostomy. Khalil S, Folkert K, Leinwand M, 38th Annual Kalamazoo Community Medical and Health Sciences Virtual Research Day, Kalamazoo, Michigan, 04/2021
To Culture or Not to Culture: Does Microbiology Affect Mortality After Intra-Abdominal Infection?. Stearns L, Khalil S, Sawyer R, 38th Annual Kalamazoo Community Medical and Health Sciences Virtual Research Day, Kalamazoo, Michigan, 04/2021
Making an impact on patient recovery: An analysis of an enhanced recovery pathway's use of immunonutrition impact drink before elective hepatoprancreaticobiliary surgery. Chou J, Khalil S, Kramme K, Munene G, The Society for Surgery of the Alimentary Tract 61st Annual Meeting, Chicago, Illinois, 05/2020