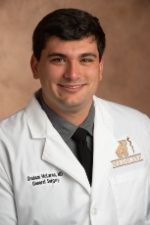 Graham Walker McLaren, MD
Chief Resident, Department of Surgery
Instructor, Department of Surgery
---
Contact Information
Patient Care Related:
Biosketch
Central Michigan University College of Medicine
Western Michigan University (Biomedical Science, Chemistry)
What are your interests and hobbies outside of work?
Woodworking, NPR, and craft beer.
What is your clinical area of interest?
Undecided specialty, but community practice.
What do you like about training at WMed Surgery?
WMed is a friendly program that simultaneously prepares residents for both independent practice and fellowship.
Education and Training

MD 2018, College of Medicine, Central Michigan University
BS 2013, Biomedical Science, Lee Honors College, Western Michigan University

Publications

Presentations

Broken Bones and an Adrenal Mass. Hussain K, McLaren G, Shebrain S, 38th Annual Kalamazoo Community Medical and Health Sciences Virtual Research Day, Kalamazoo, Michigan, 04/2021