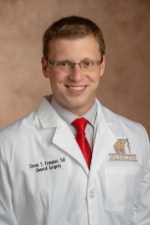 Derek Todd Tessman, DO
Chief Resident, Department of Surgery
Instructor, Department of Surgery
---
Contact Information
Patient Care Related:
Biosketch
Des Moines University College of Osteopathic Medicine
University of Notre Dame (Science, Business)
What are your interests and hobbies outside of work?
When I'm not in the hospital, you can find me on a walk with my wife, Kiah, and our newborn son, Camden, at the driving range, or yelling at my TV on college football Saturdays.
What is your clinical area of interest?
Following residency, I'm hopeful to end up back in Minnesota or Iowa practicing acute care surgery with possibly an emphasis in hospice and palliative care.
What do you like about training at WMed Surgery?
What set WMU apart from other programs on the interview trail was the sense of family amongst the residents and the dedication and commitment to resident education from the faculty.
Education and Training

DO 2018, Osteopathic Medical Center, Des Moines University
BS 2012, Science-Business, University of Notre Dame

Presentations

Outcomes of Splenectomy on Hematologic and Non-Hematologic Splenic Conditions. Tessman D, Liu G, Dewey J, Shebrain S, Sawyer R, 38th Annual Kalamazoo Community Medical and Health Sciences Virtual Research Day, Kalamazoo, Michigan, 04/2021
Surgical outcomes of distal pacreatectomy in elderly patients. Chou J, Tessman D, Shebrain S, Munene G, Society of American Gastrointestinal and Endoscopic Surgeons 2020 Annual Meeting, Online, Virtual, 08/2020