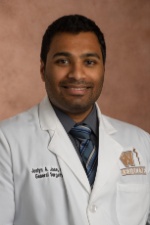 Joslyn Abraham Jose, MD
Chief Resident, Department of Surgery
Instructor, Department of Surgery
---
Contact Information
Patient Care Related:
Biosketch
St. George's University School of Medicine
Wayne State University (MS, Biomedical Engineering)
University of Notre Dame (Science)
What are your interests and hobbies outside of work?
Watching college football, pickup basketball, video games, movies, and TV shows
What is your clinical area of interest?
General surgery – no specific specialty yet!
What do you like about training at WMed Surgery?
We get excellent operative experience and it really feels good to grow as a surgeon with co-residents who are friends and attendings who enjoy teaching us.
Education and Training

MD 2017, St. George's University
MS 2012, Biomedical Engineering, Wayne State University
BS 2011, Science Pre-Professional, University of Notre Dame

Presentations

Perforated Appendicitis: The Solution to Pollution is Not Dilution. Jose J, Liu G, Leinwand M, 40th Annual Kalamazoo Community Medical and Health Sciences Research Day, Kalamazoo, Michigan, 04/2022
Is Bloodstream Infection an Epiphenomenon in Surgical Patients?. Jose J, Sawyer R, 38th Annual Kalamazoo Community Medical and Health Sciences Virtual Research Day, Kalamazoo, Michigan, 04/2021