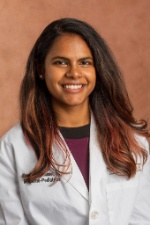 Naveen Zarlish Emmanuel, DO
Chief Resident, Department of Medicine
Chief Resident, Department of Pediatric and Adolescent Medicine
Instructor, Department of Medicine
Instructor, Department of Pediatric and Adolescent Medicine
---
Contact Information
Patient Care Related:
Medicine-Pediatrics, 269.337.6345
Biosketch
Naveen Emmanuel, DO, is a resident physician in the Medicine-Pediatrics Residency Program at Western Michigan University Homer Stryker M.D. School of Medicine in Kalamazoo, Michigan. She received her undergraduate degree at The University of Texas at Dallas, Texas. She earned her medical degree at The University of North Texas Health Science Center in Denton, Texas.
Education and Training

DO 2019, Texas College of Osteopathic Medicine, University of North Texas Health Science Center
BS 2014, The University of Texas at Dallas

Presentations

Primary Pyomyositis in Children in the United States - Trends and Associations from the Healthcare Utilization Project Nationwide Inpatient Sample Data. Jenkinson K, Ring A, Emmanuel N, Maravelas R, Vos D, Barr J, Sadarangani S, Melgar T, 38th Annual Kalamazoo Community Medical and Health Sciences Virtual Research Day, Kalamazoo, Michigan, 04/2021
Two Teens With Vaping Associated Lung Injury in a Community Children's Hospital. Rivera G, Emmanuel N, Fakhoury J, Ischander M, 38th Annual Kalamazoo Community Medical and Health Sciences Virtual Research Day, Kalamazoo, Michigan, 04/2021